06/07/2022
It just keeps getting better and better
We've been making custom hats for years now. We've seen trends come and go and our discerning eye for quality materials and design has only sharpened. That brings us to where we are today: launching the Fall/Winter 2022 Custom Hat program. As promised, not only are there improvements but also some incredible additions that are sure to please.
Brand New Catalog
This one is for our existing customers (future customers will love it as well). As our custom hat offering has grown over the years and we added more options, the tools we used to showcase these offerings ballooned. Which we love because we love options. However, it was time to rethink the logic as we continued to grow and expand the program. Our new catalog is organized by material, including some exciting new ones, which gives us room to facilitate loads of new styles.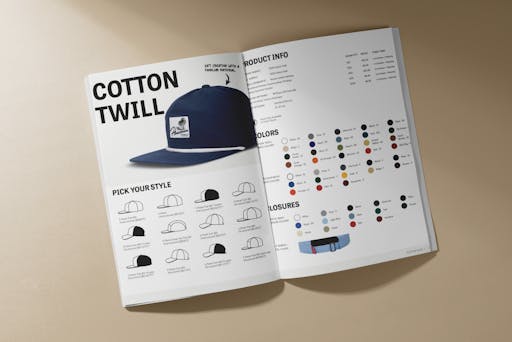 New Materials, Colors & Styles
With the catalog's structure being based off materials we figured we should bring in some new goodies and bring back some old favorites. The 11 Wale Classic Corduroy is back and with new colors and styles. Its counterpart, the 8 Wale Vintage Corduroy, comes in four great styles and 9 new colors. We've introduced a Vintage Washed Cotton cap (the classic dad hat) in five styles and 16 colors. The luxurious 50% wool/50% polyester Speckled Tweed cap comes in 10 beautiful colors and five styles. Our Sherpa Lined Earflap Cap is maybe the most exciting for winter, coming in wool, cotton canvas, or corduroy and 60 colors. Finally, for the party animals, we've launched a Corduroy Bucket Hat in the chunky 8-wale vintage corduroy.
What Else?
The good stuff keeps coming. Most of our cap styles come with a recycled plastic bill, which is just the beginning of our sustainability story with our custom hat program (this is a hint, keep your eyes out for more "coming soon" 😉). We have two main cap size options, a standard 58 cm and 61 cm XL, along with a youth size (54 cm) available in certain materials. Our cap closure options have been expanded, providing two options for just about every style (plastic snap, self-fabric + metal buckle, nylon strap + plastic buckle, leather strap + metal buckle). Finally, we've updated our bill rope colors, including a series of seasonal two-tone bill ropes.
Plan for Fall/Winter 2022 now!
Yes, we get it, it's barely the end of spring in the Pacific Northwest and it's consistently 90º in Texas. But this is when F/W planning starts. Custom Hat lead times range from 11-13 weeks (up to 3 months) and it's our job to help your brand create incredible apparel and strategically plan. Get in touch with your account manager today to start your custom hat order for Fall/Winter 2022.
Pre-production samples are available at $250 / four pieces of one style.