FAQ
No, it's not the First Apple Queen, it's our frequently asked questions. In the business of high-quality custom brand apparel, there are A LOT of questions, and if we didn't cover what you were wondering about click here.
-
What are wholesale products?
"Wholesale" refers to pre-made "ready-to-wear" products that ship to Brist, to then be decorated in-house. A few examples of wholesale companies are AS Colour, Next Level Apparel, and Gildan.
Brist Blanks vs. Brist Built?
Brist Blanks are Brist's version of "wholesale hats". Much like you can order a "112" from Richardson, you can order a "Hudson" style hat from Brist. We've put a lot of thought, creative, and design into recreating our favorite hats in a way that's unique to Brist but familiar to the market.
Brist Built products are completely custom, meaning they are completely built from scratch by Brist, for you. These products have more customization options but generally have longer lead times. What products fall into this category? Flannels, button-ups, swim shorts, hats, and beanies.
What are your lead times?
Lead times can vary from product to product (see specific catalogs for details). Note: Wholesale products generally take less time to produce than Brist Built products.
Can I get a quote on a screen-printed item?
Absolutely! I will need the following info to get a quote on screen printed items:
Product style
Vector Graphic
Placements
Where can I find pricing?
You can find pricing in the specific catalog that correlates to each product; each product page on our website has a linked catalog. For more questions get in touch with your Account Manager or contact us here.
How do I pay?
Brist will email you an invoice, for which you can pay by debit card, credit card, or bank transfer.
Can I use my already made custom patches on Brist Built hats?
Unfortunately, you can not. Brist Built hats come with their own patches when being created. You can only use custom patches on Brist Blanks or wholesale products. Want more information on our patch program? Check it out here.
Can I split up Brist Built order minimums into different sets of colors/styles/decorations, etc?
No, you can not. Each minimum pertains to just one color/style/decoration.
How do I get help with my designs?
For custom artwork, our design team charges $125 per hour.
Can I get samples?
Absolutely! Here are your two sample options:
Brist Built sample route.
Please reference the specific product catalog for more information (located on the last page) 
Sample store route.
We have an in-house sample inventory that consists of already created products from past clients. This route is limited to product style. We will not be able to guarantee color, fabric, or decoration.  $10 per headwear box (up to 3 hats/beanies), $20 per flannel/shirt/shorts. 
Wholesale sample route.
These samples would be ordered straight from our wholesale partners and shipped directly to you. (Richardson, Next Level, etc.)
Do you have any sustainable products?
We have sustainable options in all product categories. (Ask your account manager for more details)
Can I provide my own blanks?
Unfortunately, you may not. But we can do our best to source exactly what you are looking for!
What is a vector file?
A vector file is a print-ready graphic that is commonly used in design. A good way to tell whether or not a graphic is a vector or not is that vectors can be infinitely resized without losing any sharpness or color quality. (Zoom in as much as possible and if the image does not get pixelated, it is a vector!)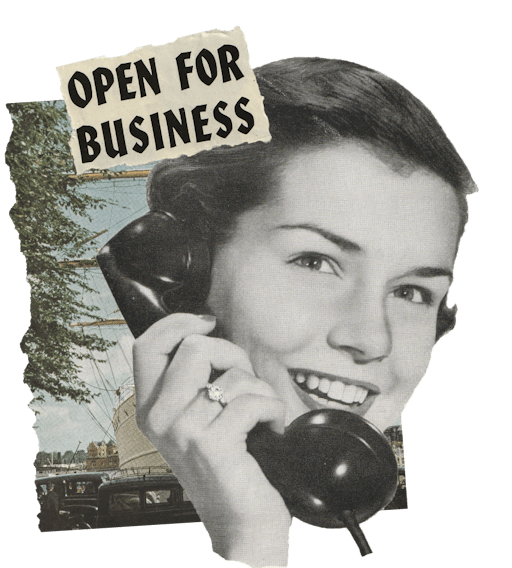 Give us
a ring
Our Account Managers are standing by and ready to take your call. Or email. Or DM. Or smoke signal. Look, we're ready as all get out to kick your apparel headache to the curb and work together to create the most compelling merchandise you can imagine. Let's do it together.